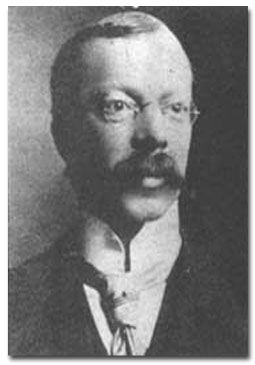 [Editor's note: This is the first of what will be many articles here on the HistoryGeo.com blog which will highlight the ancestral origins of the famous and the infamous, first describing why they are noteworthy and then WHERE they and/or their ancestors came from. Links and sources follow the narrative, and include one or more subscriber-only links to maps at HistoryGeo.com]
In early 1910 London, a self-proclaimed music-hall performer named Mrs. Hawley Crippen1, went missing. Her friends knew her as Cora, and her husband, Dr. Hawley Harvey Crippen, a native of Coldwater, Michigan, claimed that she had returned to their native U.S. to tend to personal business. When later pressed by Cora's friends for more information, Crippen informed them that Cora had unexpectedly died while in California.
Meanwhile, Crippen's new girlfriend, Ethel "Le Neve" Neave moved into the Crippen house. On social occasions, friends noticed Ethel wearing pieces of Cora's jewelry. These same friends also reported the odd circumstances of Cora's disappearance to London police. Early investigations yielded nothing, but after a fourth search of the Crippen residence, human remains were found under the basement's brick floor. But by this time, Crippen and his mistress had disappeared!
Dr. Crippen was more akin to a homepathic healer than a licensed physician and his story is a fascinating one. His capture, trial, and ultimate execution at Pentonville Prison (Islington, England) have been the subject of many television shows, books, and even a popular song2. Interestingly, the evidence used to convict Crippen has been called into serious question in recent years3
Dr. Crippen's Paternal Ancestry
Dr. Crippen was born September 11, 1862 to Myron Augustus Crippen and wife, Andresse Skinner, in Coldwater, Branch County, Michigan. The Crippen family had been in the area by at least the late 1830's when both Crippen's grandfather, Philo, and great-grandfather, Bradley Crippen, acquired land-patents just south of Coldwater.
Numerous presentations of Crippen's ancestry claim early American roots in New York (Herkimer and Monroe Counties) and prior to that, New England, going back until about the mid-1600's. See in particular, Timothy Dowling's WorldConnect web-pages.
HistoryGeo Subscriber Links
(login to your account before clicking)
Land of Philo and Bradley Crippen, Dr. Crippen's grandfather and great-grandfather, respectively, just a little southeast of Coldwater, Branch County, Michigan. Dr. Crippen was born in the area to Philo's son, Myron A. Crippen, and his wife, Andresse Skinner.
Oak Grove Cemetery, Coldwater, Branch County, Michigan, final resting place for both Dr. Crippen's paternal grandparents and great-grandparents.
###Other Links

YouTube: Partial episode of History Channel's Scotland Yard's Greatest Cases (1996).

Thunderstruck, a non-fiction book by Erik Larson, which follows both the Dr. Crippen case and how it related to Guglielmo Marconi's invention of the shortwave radio.

Findagrave.com: Philo Crippen, grandfather of Dr. Hawley H. Crippen, in Coldwater, Branch County, Michigan.

Findagrave.com: Bradley W. Crippen, great-grandfather of Dr. Hawley H. Crippen, in Coldwater, Branch County, Michigan.

Hawley Harvey Crippen - Wikipedia article


###Notes: 1. Mrs. Crippen's birth name was Kunigunde Makomarkski, which was apparently changed to Corrine "Cora" Turner, before she married Hawley Crippen. Cora claimed to have been a professional singer but evidence of actual performances is wanting. She was, however, a volunteer with the London's Music Hall Ladies Guild and ran in social circles with many accomplished entertainers of the day. In this world, Cora claimed a stage-name of Belle Elmore. 2. Read the [Wikipedia article](http://en.wikipedia.org/wiki/Hawley_Harvey_Crippen) for more of the story. 3. In recent years, critics of Dr. Hawley's conviction have claimed DNA analysis to have revealed the human remains used to convict Dr. Crippen could not have been those of Mrs. Crippen, but rather were those of a man. Other other evidence is also being claimed to have been fabricated, particularly a piece of skin bearing a scar that allegedly could have only come from Mrs. Crippen . Whether her husband was wrongfully convicted or not, the fate of Mrs. Crippen has never been determined. See the above Wikipedia article for more on this subject.