HistoryGeo
A blog about maps, history, and family.
Landowner Maps for 39 New Counties in Antique Maps Collection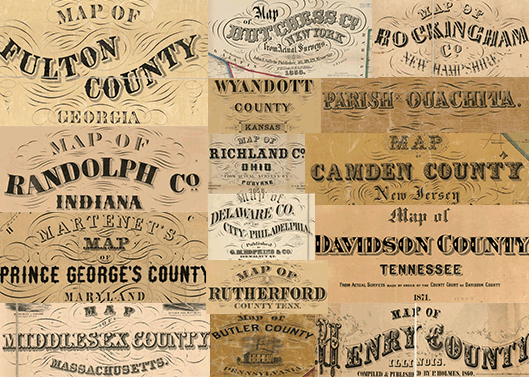 We just added landowner-maps for 39 different counties throughout the U.S. --- counties in Delaware (1), Georgia, (1), Iowa (2), Illinois (2), Indiana (2), Kansas (2), Louisiana (1), Maryland (5), Massachusetts (2), New Hampshire (2), New Jersey (3), New York (5), Ohio (1), Pennsylvania (6), and Tennessee (4).
Specific counties are listed below with links that will take you directly to the maps (if you are a logged-in HistoryGeo.com subscriber). You can get a complete list of our growing Antique Map resources directly from this link which can always be found at the bottom of our home page.
Delaware
Kent County, Delaware (1859)
Georgia
Fulton County, Georgia (1872)
Iowa
Dickinson County, Iowa (1883)
Illinois
Henry County, Illinois (1860)
Indiana
Huntington County, Indiana (1866)
Randolph County, Indiana (1865)
Kansas
McPherson County, Kansas (1898)
Wyandotte County, Kansas (1885)
Louisiana
Ouachita Parish, Louisiana (1858)
Maryland
Anne Arundel County, Maryland (1860)
Carroll County, Maryland (1862)
Harford County, Maryland (1878)
Prince George's County, Maryland (1860)
Massachusetts
Berkshire County, Massachusetts (1858)
Middlesex County, Massachusetts (1856)
New Hampshire
Hillsborough County, New Hampshire (1858)
Rockingham County, New Hampshire (1857)
New Jersey
Camden County, New Jersey (1857)
Essex County, New Jersey (1850)
Somerset County, New Jersey (1850)
New York
Broome County, New York (1855)
Dutchess County, New York (1858)
Fulton County, New York (1856)
Washington County, New York (1853)
Ohio
Richland County, Ohio (1856)
Pennsylvania

Butler County, Pennsylvania (1858)
Delaware Co. / Philadelphia, Pennsylvania (1876)
Forest County, Pennsylvania (1876)
Union County, Pennsylvania (1856)
Venango County, Pennsylvania (1857)
Washington County, Pennsylvania (1861)
Tennessee
Davidson County, Tennessee (1871)
Madison County, Tennessee (1877)
Montgomery County, Tennessee (1877)